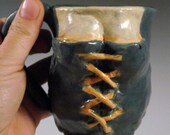 Now you can have your own serving wench serve your coffee with this unique bodice mug. Perfect for Renaissance Faires, LARP, or just knocking around the castle!
This mug was first thrown on a kick wheel by Montana artist Kate Bertin, then sculpted to create this one-of-a-kind beverage server. The pleasingly plump serving wench mug holds more than 12 fluid ounces, either hot or cold!
DI...
Click Here to Visit My Etsy Shop!