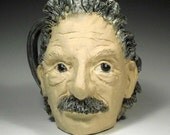 Who doesn't love Albert Einstein? This hand-sculpted EinStein face mug is perfect for any science lover in your life!
EinStein was first thrown on a kick wheel by Montana artist Kate Bertin, then sculpted into this unique piece of functional art. Although Kate sometimes repeats themes, every piece is truly one of a kind. No molds are used in the sculpted mugs.
Click Here to Visit My Etsy Shop!