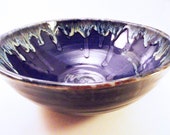 There's something so peaceful about cobalt blue. This hand thrown serving bowl is great for anything from mashed potatoes to fruit. Large enough to hold food for a hungry family - but this bowl's so pretty, you'll want to keep it on your table or counter whether it has food in it or not!
Around the rim of the bowl, the cobalt blue is edged with a glaze called "Slate." While this g...
Click Here to Visit My Etsy Shop!