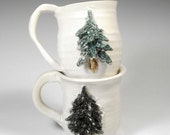 This pair of handmade pottery mugs are two of a kind, and the perfect way to enjoy your holiday nog! The tree itself is sculpted onto the front of the mugs, giving it a bas relief three-dimensional look. The deep green branches of the pine tree are lightly sprinkled with winter snow.
DIMENSIONS:
Height: 4
Width: 3.25 inches
Total Width: 5 inches
Microwave safe. Hand ...
Click Here to Visit My Etsy Shop!