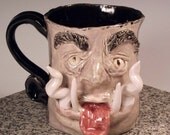 Now THIS fellow is guaranteed to make your office mates jealous when you drink your coffee! The mug was handmade from slabs of clay, and then sculpted by Montana artist Kate Bertin into this monster with a toothy grin. Kate rarely knows exactly what she's going to make when she sits down to sculpt - so it's always fun to see who comes out to play.
The body of the monster mug is glazed in glossy...
Click Here to Visit My Etsy Shop!