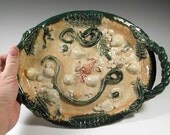 Pond Life Serving Platter in Forest Green and Tan
Way back in the 16th century, a Frenchman named Bernard Palissy began creating what he called "rustic ceramics," plates and platters that capture the vibrant life of a pond or lake. Montana artist Kate Bertin spotted one of his platters on a recent visit to the Louvre, and became determined to develop the idea into her own style. This gorgeous platter in tan and green features critters from snakes to frogs, from crabs to turtles. Hang on your wall, or use it for a very unique bread server!
Click Here to Visit My Etsy Shop!